Talen
There are no products in your shopping cart.
Calculate the price of your vending tray
The prices will appear at the top of this page as soon as you add a number of products (with required options) to your calculation.
For more information, please refer to the links to the right of this page or (on mobile devices) at the bottom of the page.
If you have completed the calculation you can submit it as an order.
We will then contact you to confirm the order or adjust it if desired.
---
Compare prices: (Click on the graph for a larger view)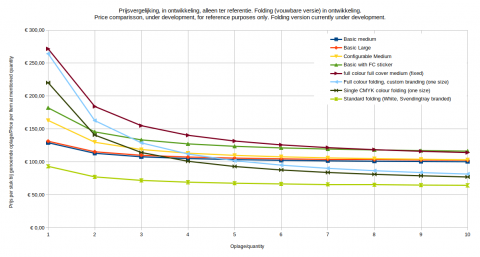 This graph shows prices of the various types of vending trays in relation to the ordered quantity.
Please note:
This graph is only intended as a guide, prices in the shop are leading.
Basic folding vending tray, one side of the base material covered in full color print.
Print is laminated for extra durability.
This vending tray comes to you as a flat and unfolded sheet, to be shaped in to a tray just like some cardboard boxes.
Base material is 4 mm mdf.
Size differs from the other models:
550x360x55 mm
Prices are based on ready to print artwork or lay out by Svendingtray in one uniform color with one logo on the front.